Floor Scales Department of Central Carolina Scale, Inc. WELCOME!
Floor Scales -- We are here to help you find 5' x 5' Floor Scales and Central Carolina Scale. For more information on Floor Scales or to view our complete scale inventory, please visit our main website http://www.centralcarolinascale.com
Click Here for Products and Prices!
Welcome to Central Carolina Scale, the most complete online source for all your scale needs. For over 25 years, we have been providing our customers with high quality scales and weighing products from the world's leading manufacturers, backed by the best warranties. We carry the best brands--Rice Lake, Cardinal, Salter Brecknell, Pennsylvania, B-Tek and Digi. Our warehouse is full of scales and related weigh items, like counting scales.
Call us at (919) 776-7737 or send us an email if you don't find exactly what you're looking for; we're here to help you! Since 1980 -- Price, Value, and Service are what we are about!
If you're looking for a Floor Scale… be sure to come our weigh!

Platform and Warehouse Weighing Equipment
Floor Scales by Cental Carolina Scale is what this site is all about! CCS, has over twenty five years of experience in sales, service, and rentals of floor scales. This site is a sample of our selection of high quality, low cost floor scales for all your industrial weigh needs. Portable or permanent, floor or in-pit, wet or dry applications, drop and weigh or drive up ramp -- it doesn't matter. Just call or email and we can get you a custom quote ASAP. We offer a complete line of Avery Weigh-Tronix floor scales, floor scale packages with digital readout, barrel scales and drum scales, check weigh platform scales, pallet jack scales and more!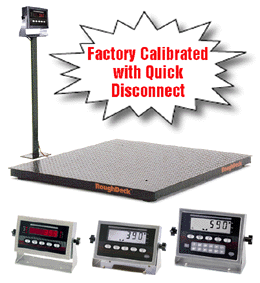 Rice Lake weighing systems heavy-duty floor scales, for use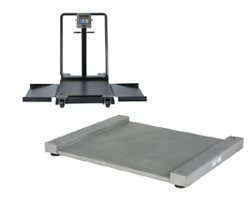 with pallets and large containers, have set the STANDARD in the floor scale industry. Choose from the many platform sizes and capacities plus extra features like pit frames, stainless steel hermetically sealed load cells, NTEP and Canadian approvals, and ramps. The RLWS scale series, 4'x4', 5000lb capacity ROUGHDECK low profile pallet scale is in-stock and ready to ship. Each platform scale arrives at your facility calibrated and ready to use. We also sell truck scales. Our line of products are rugged …tough... accurate … built to last. See our buyers guide for latest insights on what to look for when buying scales online.
Need a pallet jack scale? Save time and money with our battery operated models from Aatlas and Intercomp! Portable barrel scales from Cardinal Detecto Scale and Pennsylvania Scale are available in stainless or mild steel versions to suit your industrial requirements. If you need high-resolution capability, common in the pharmaceutical industry, select from our offerings of platforms by GSE Porta-Tronic 800, a respected manufacturer of laboratory grade equipment and other weighing equipment. How about a basic 1000 lb. capacity portable beam scale? We've got them in stock from Cardinal? Digi Summit platforms have the value and features you're looking for in this classic, time-tested 48"x48" and 60"x60" economy design. What is the real deal on these $499, $599, low cost $695 for readout and scale including freight offers and frequently asked questions?
Central Carolina Scale, Inc. is committed to providing quality products and service to its customers that meet or exceed requirements and expectations. Whatever the future holds, we are dedicated to the fact that quality will always be the cornerstone in all areas of this business, from the top management level to the technician in the field. Continuous improvements are required from all employees because our customers deserve the best and this assures our customer's the best return for your business dollar.

Contact us @ (919) 776-7737 … we'll show you the "weigh"!
© 2014 Floorscales.info All rights reserved